Rainwater Harvesting In a Very Modern Setting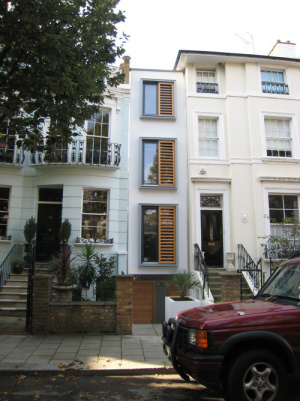 Architect Luke Tozer, from Pitman Tozer, has a cool head for a man who appears to like tight spots.

His eco-friendly new home in west London is squeezed into the 2.4 metre space between two semi-detached villas. A claustrophobic brief and a major headache, even for space-hungry builders in the Capital. However, Luke has managed to overcome the lack of room to create a home with a wonderfully designed, bright and spacious interior.
But this isn't just a house with a brilliant gloss on its doors; its attraction goes far deeper than its white-walled interior.
The four-storey building has been constructed to have as low a carbon footprint as feasibly possible. For this, Luke engaged ARUP Engineering to review the constraints of the site, which is not only snug, but which is situated in a conservation area between listed buildings.
The restrictions on the build as a result of its situation lead to some compromises. The house doesn't have solar panels, for example, for generating heat and electricity. Instead, a ground source heat pump extracts the heat from three 50 metre bore-holes. These warm the house and supply all the hot water.
Interior walls are insulated with lambswool, and where possible, materials were specified from sustainable sources.
A Klargester Envireau rainwater harvesting system has been installed to capture, filter and store water from the 72 metre2 roof and guttering, in an underground 1,200 litre tank. The water is transported, via a soundless pump, to a header tank in the roof and is used to flush all four loos in the house.
Luke laughs: "I must be one of the few people in this country who smiles at the sight of storm-clouds, because I know they're going to fill up my tank!"
"The water in the loo is perfectly fine – it's odourless and almost clear. Quite honestly, it seems mad to think people routinely flush their loos with drinking water!
"We had a good service from Envireau and their technical helpline was very good. I would strongly recommend that anyone installing a rainwater harvesting system has their plumbers, electricians and a ground-worker working together on site to ensure a seamless installation process."
For more information on this development visit www.pitmantozer.com