Fuel, Petrol, Oil Interceptors, Bypass Separators


Introduction:
Note that throughout this section the term 'separator' is used instead of the term 'interceptor'.
Surface water drains normally discharge to a watercourse or indirectly into underground waters (groundwater) via a soakaway. Contamination of surface water by oil, chemicals or suspended solids can cause these discharges to have a serious impact on the receiving water.
Oil separators are installed on surface water drainage systems to protect receiving waters from pollution by oil, which may be present due to minor leaks from vehicles and plant, from accidental spillage or due to deliberate and illegal tipping into drains.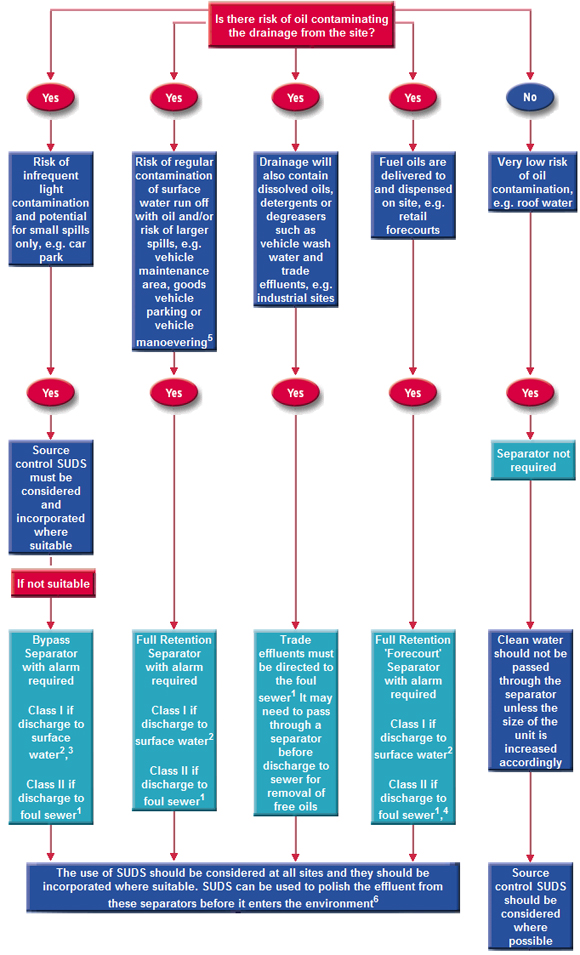 This chart gives guidance to aid selection of the appropriate type of oil separator for use in surface water drainage systems which discharge into rivers and soakaways.
For further detailed information, please consult the Environment Agency Pollution Prevention Guideline No. 3. (PPG 3) "Use and design of oil separators in surface water drainage systems" available from their website.
Klargester Environmental has a specialist team who provide technical assistance in selecting the appropriate Separator for your application.
Fuel/Oil Separator Range

Features and Benefits


Full Retention Separator NS Range
Bypass Separator NSBD Range
Washdown & Silt Separator
Silt Traps
Grease Traps


Full Retention Separator NS Range


All surface water treated

Used on high risk sites

Sized in litres per second flow

Available in Class I and Class II formats

- Class I includes coalescer and closure device, treating 100% of flow to achieve a concentration of 5mg/litre of oil

- Class II to achieve concentration of 100mg/litre of oil

Bypass Separator NSBD Range


Used on low risk sites (Car Parks)

Sized in litres per second flow

Available in Class I and Class II formats

- Class I includes coalescer, treating 10% of flow to achieve a concentration of 5mg/litre of oil

- Class II to achieve concentration of 100mg/litre of oil

Washdown & Silt Separator


Used in areas such as car wash applications, tool hire depots, truck cleansing, construction compounds cleansing points
Discharge directly into a foul drain, which feeds to a municipal treatment facility

Silt Traps

Designed for use before a separator in car wash applications to ensure effective silt removal.
Galvanised heavy duty cover
Light and easy to install
Maintenance from ground level




Alarm Systems

British European Standard BS EN 858-1 and Environment Agency Pollution Prevention Guideline PPG3 requires that all separators are to be fitted with an oil level alarm system and that it should be installed and calibrated by a suitably qualified technician so that it will respond to an alarm condition when the separator requires emptying.

Easily fitted to existing tanks
Excellent operational range
Visual and audible alarm
Additional telemetry option