Wastewater Treatment Plants Comparison Information
Airborne Fixed Bacterial Culture or BioTec / AirFlow Wastewater treatment plants

Operation
Airborne Fixed Bacterial Culture or BioTec / AirFlow wastewater treatment plants in France usually have three treatment stages to the treatment process. One chamber is called PST (primary settlement tank), the second one called biozone, and the third stage is called FST (Final Settlement tank) The PST acts as a pre-treatment tank, the "biozone" is a honeycomb material suspended in free air above the holding tanks and, the FST performs a final clarification. At first the sewage flows into the PST then by the use of the blown air rising through the venturi system of the airlift (sized according to the quantity of inhabitants the unit is designed for) the waste water is randomly splashed over the BioZone material which becomes populated with active bacteria. The random nature of the dispersion ensures that the media goes through a constant cycle of air contact and full submerging to pick up the liquids for digestion and ensuring a constant self cleaning action, a preset quantity of purified liquid is then collected and drained in controlled quantities through into the FST which displaces settled and treated water to outflow from the BioTec / AirFlow wastewater treatment plant.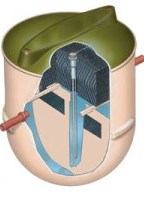 Service / Maintenance
Annual diaphragm change in airlift compressor
Annual sludge removal (limited amounts depending on unit size)
Visual inspection of satisfactory operation of airlift and dispersion head – cleaning if necessary
BENEFITS
These wastewater treatment plants in France have the following advantages:
COST BENEFITS
Low capital costs compared to treatment plants of similar performance.
Low operating costs from under 50W power requirement over the range.
Low lifetime costs
All units are delivered ready to install reducing site development costs.
Units are potentially re-useable
ENGINEERING BENEFITS
Simple air blown process ensuing low operating and maintenance costs.
No electrical or moving parts within the unit or in contact with the water.
All BioTec / AirFlow wastewater treatment plants are supplied with an integrated Control Panel and alarm constantly monitoring blower pressure.
Proven track record for high quality performance, reliability and low maintenance
Installation and commissioning by Certified Installers.
Planned service and maintenance programs are available upon request.
A pumped outlet can be specified allowing installation in most circumstances allowing installation in situations requiring compact wastewater treatment plants in France.
PROCESS BENEFITS
Consistent performance and effluent quality.
Certified to European Standards with 93% pollution removal under varying loads and conditions.
Patented Flow Management Process (KPFM) provides flow and biological balancing smoothing out biological load variations and flow peaks and troughs.
Hydraulic separation using KPFM ensures all wastewater is fully treated without by-passing, a symptom often associated with suspended growth wastewater treatment systems that rely on pumps or compressors.
The process is self-establishing and does not require the addition of chemicals or cultures.
KPFM allows for 6 hours of retention within the unit.
Capability to adjust plant performance.
Minimal process maintenance required.
ENVIRONMENTAL BENEFITS
High effluent qualities for both domestic and commercial wastewater treatment systems in variable conditions.
Installation minimizes visual impact.
No odour and very minimal sound pollution.
Conclusion
The Airborne Fixed Bacterial Culture wastewater treatment plants, as perfected by Titan in the Biotec and Klargester in the Airflow WWTP, offer a premium and ecologically sound engineered solution to the modern families wastewater treatment needs at a reasonable cost. The mechanical components used are sourced on the basis of their quality to give years of trouble free service, backed in France by the five year parts and labour warranty. The tank and components also have a fifteen year warranty for your complete peace of mind and Klargester are proud of their 44 year heritage as suppliers of wastewater treatment plants.
Click here to continue and read about the Kingspan Environmental EnviroSafe moving bed biological reactor MBBR wastewater treatment plants, or skip straight to the summary on wastewater treatment plants here.